Air conditioner in a vehicle is equipped with a clutch that is made up of an electromagnetic material. This clutch helps to engage or disengage the compressor pulley. As soon as the engine starts running, the compressor pulley turns on. On the other hand, the compressor works when the compressor-driving shaft gets engaged to the pulley. Therefore, all parts of the air conditioner are complimentary to each other.
In case your A/C is not working up to your expectations, you may blame malfunctioning of its compressor clutch. Generally, buying these new mechanical accessories rob you of your hard earned money. Therefore, it is more convenient to buy used air conditioner compressor clutch.
Make sure you check proper functioning of the used air conditioner clutch. Any defect in it can be dangerous because it will lead to occasional disengaging of the pulley thereby damaging the A/C. Consider the one that promises you to have its easy installation. This part is mounted to front of the air conditioning compressor. Being much cost effective, it is more preferable.
Examine the functioning of the used air conditioner compressor clutch by temporary fixing it into the vehicle. Never go with the product if you feel it is not giving perfect cooling or is making a lot of noise. Types of clutch vary according to types of compressor. Therefore, you need to be very sure about layout of your vehicle and its air conditioning compressor. Repairing the used air conditioner compressor clutch requires a lot of tools. Therefore, you need to choose the one with extreme care. You should always examine the compressor clutch for excessive wear and damage due to heat. Apart from it, you are advised to look out for its engagement too. Even if it is slightly damaged, it can cause a great loss to your vehicle's air conditioner
You can buy these used air conditioner compressor clutch either online or offline. Another way is to visit the auction sites. Always ask for at least 90 days warranty period. Cooling system of the air conditioner is better regulated with the help of used air conditioner compressor cycling clutch. In this, a fixed compressor system is connected to support refrigeration cycle. This cycling clutch uses an evaporator core temperature for controlling electrical current to clutch of the compressor. This further helps in stabilizing the evaporator core. The cycling clutch is a better option over other.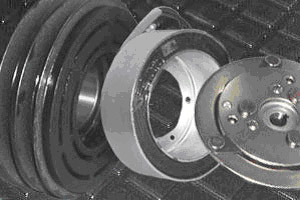 Locate Used Air Conditioner Compressor Clutch Here!
Buy Recycled Used Air Conditioner Compressor Clutch - Shop Online

The world isn't the same as it was fifty years ago. We're on the brink of a global disaster with warming and pollution. At Automotix, we take these things into consideration and have delivered cost-effective, eco-friendly options for the many consumers out there. Automotix does its part to help the environment by recycling used parts and keeping junk scraps - rubber, metal, and plastic - out of the environment.
The United States is one of the largest producers of non-degradable scraps. As citizens, we it to ourselves to do our part to reverse this trend - by purchasing used parts from Automotix, you're not only saving money, you're helping to heal the environment.
Shop Online > Choose Make >
Find below some examples of used Air Conditioner Compressor Clutch requests
---

Vehicle
Part
Buyer Location
Action

Used 2008 Cadillac CTS Air Conditioner Compressor Clutch

2008 Cadillac CTS
Sedan, V-6, Gas/Carburetor, Automatic, AWD

Air Conditioner Compressor Clutch
My air conditioner makes a horrible noise when I turn it on. It last for about 15 seconds and sounds like fanblades hitting something. I was told that means my clutch is going out. Does this seem the case?

Columbia, Missouri 65203


This complete guide is filled with valuable tips on how to buy used parts, where to look for quality salvage parts, how best to determine a fair price, ways to validate salvage yards, and how not to get ripped off by fraudulent wrecking yards. A must have for anybody buying parts.
Get your copy now!