While pushing the clutch, if the clutch slave cylinder spews brake fluid out then your vehicle is heading towards major problem. This problem is often found in 2WD gasoline, sometimes in diesels also. Hydraulic clutch engagement systems are found in BMW 3-series vehicles. No cable is involved with clutch actuation. It leads to a more reliable and durable clutch system over time. But, failure of master or slave cylinder would lead to the leakage or breakdown of system.
There are a few symptoms of vehicle's breakdown or failure. Spongy feeling on clutch pedal, experience grinding of gears when shifting, long traveling of pedal, hydraulic leakage under the car are symptoms of failure of one or more component. Thus, you must replace the breakdown component immediately. Clutch Slave Cylinder is one of the easiest components to replace and is also quite inexpensive.
Clutch Slave Cylinder is easier for replacement, as it is positioned just underneath the car. It is placed on the transmission's left side. Two nuts are used for fastening it with transmission. In order to replace, you must remove connection between hydraulic line and cylinder. Use a flare-nut wrench to remove hose, otherwise they will strip. Do not forget to inspect the clutch slave line, as it might be bulging or rubber might be cracking. Before removing the connection, get one drip pan to catch the leaked out fluid.
Take out two nuts that are attaching cylinder with transmission. Remove the slave cylinder and install the new one. Do not forget to reattach the clutch fluid line. As the system will bleed now, so get one power bleeder and attach it at the top of master cylinder reservoir. Pump pressure into the bleeder. Now, attach bleeder hose to bleed nipple on slave cylinder. Let the system bleeding out so that all bubbles disappear.
When complete, take away the bleeder system. Now, lower down the car and try the clutch once again. Pedal should experience a nice feel, along with normal clutch engagement. If you still experience problem, then replace the clutch master cylinder.
In order to replace the Clutch slave cylinder, opt for used part, as they are available at pocket friendly prices. There is no need to bother about their quality, as they are made up of high quality products. Used Clutch slave cylinder is available through various online catalogs. You can choose according to the requirement. They are available in varied sizes and styles. If you have any query regarding the used clutch slave cylinder then you may call customer care representative.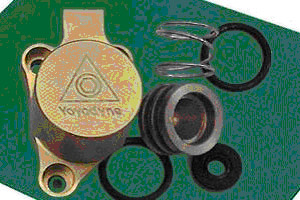 Locate Used Clutch Slave Cylinder Here!
Buy Recycled Used Clutch Slave Cylinder - Shop Online

The world isn't the same as it was fifty years ago. We're on the brink of a global disaster with warming and pollution. At Automotix, we take these things into consideration and have delivered cost-effective, eco-friendly options for the many consumers out there. Automotix does its part to help the environment by recycling used parts and keeping junk scraps - rubber, metal, and plastic - out of the environment.
The United States is one of the largest producers of non-degradable scraps. As citizens, we it to ourselves to do our part to reverse this trend - by purchasing used parts from Automotix, you're not only saving money, you're helping to heal the environment.
Shop Online > Choose Make >
Find below some examples of used Clutch Slave Cylinder requests
---

Vehicle
Part
Buyer Location
Action

This complete guide is filled with valuable tips on how to buy used parts, where to look for quality salvage parts, how best to determine a fair price, ways to validate salvage yards, and how not to get ripped off by fraudulent wrecking yards. A must have for anybody buying parts.
Get your copy now!