The door rear assembly comprises of the rear doors and all its component constituents. The constituents include the totality of the associated glass, the hardware which includes door hinges, handles, window regulators and motors, etc.
An immaculately designed door rear assembly can give a car a high level of perceived quality in terms of trim and finish. Apart from that, priority has to be accorded to a door rear assembly because safety and comfort are attached to it as well.
The use of quality materials in used door rear assembly help to give it a meticulous finish. The components of the used door rear assembly are functionally integrated according to constructive needs.
Take proper care and precaution that the rear door latch is in working condition while going in for a used door rear assembly. They should not be corroded. If corroded, they might bind causing the door to open or close with difficulty. This may result in the door failing to latch properly and open while driving with the occupant falling out. Ensure lower rocker seals are added to door and the switches are lubricated.
Used door rear assemblies are available in highly customized door sets. This helps to differentiate cars and also meets the consumer's increasing demand for personalized equipment. Door rear assemblies now incorporate a wide range of functions.
Used door rear assemblies integrate objectives in terms of cost and weight reduction and all the regulatory aspects relative to safety and environment. Doors play such a vital role in protecting car occupants; hence safety is a major area of priority in a door rear assembly. Due to its crucial role in protecting occupants in the event of a collision, doors in energy-absorbing structures are available.
Components of a used door rear assembly like, door panels and door modules, mirrors, seals and wiring come in a full range of synthetic and natural materials. All the components made by different materials combine to give a harmonious effect. They add value for their customers along with flexibility, precision and integration opportunities.
A wide range of used door rear assemblies are available for a variety of cars. The wide range of used door rear assemblies is cost effective. The low cost and high quality are the benefits which make for a strong case.
Numerous online locator services help you to search for a used door rear assembly. The online locating services are free of cost and available 24X7. It helps you to avoid searching aimlessly and saves time and money as well.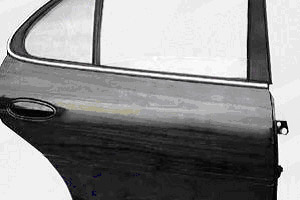 Locate Used Door Rear Assembly Here!
Buy Recycled Used Door Rear Assembly - Shop Online

The world isn't the same as it was fifty years ago. We're on the brink of a global disaster with warming and pollution. At Automotix, we take these things into consideration and have delivered cost-effective, eco-friendly options for the many consumers out there. Automotix does its part to help the environment by recycling used parts and keeping junk scraps - rubber, metal, and plastic - out of the environment.
The United States is one of the largest producers of non-degradable scraps. As citizens, we it to ourselves to do our part to reverse this trend - by purchasing used parts from Automotix, you're not only saving money, you're helping to heal the environment.
Shop Online > Choose Make >
Find below some examples of used Door Rear Assembly requests
---

Vehicle
Part
Buyer Location
Action

This complete guide is filled with valuable tips on how to buy used parts, where to look for quality salvage parts, how best to determine a fair price, ways to validate salvage yards, and how not to get ripped off by fraudulent wrecking yards. A must have for anybody buying parts.
Get your copy now!