Oil pan forms an important part of the engine's cooling system. When engine is not in motion, the oil starts flowing sown from the sides of the crankcase. This oil gets gathered into the oil pan. As for its, installation, they are positioned at the bottom of the crankcase. You may call oil pan an oil reservoir. If you are sick of your old oil pan, you may replace it with the other one. However, some accessories are good to buy as the used piece and oil pan is among them. A used oil pan promises of serving the consumer with its best efficiency. Thus, it will not create any problem for you.
While shopping for the used oil pan, you will come across to different oil pans. As such, the one made up of thin steel is commonly equipped in most vehicles. They are given a shape of the deeper section. This helps them to perform their function pretty well. You need o be very careful prior to choosing the oil pan. Indeed, this is the part that is more prone to leaking than any other part of the vehicle. Make sure your used oil pan must be detachable. Another function of the oil pan is to support the oil pumps. It is advisable to have the one with trap doors and baffles. This provides a scope to the used oil pan to take control of the oil even during rash driving.
Consider working of its oil drain plug. It helps in expelling the old oil out of the car. Bolts of the used oil pan should never be over tightened. This smashes off the oil gaskets that lead to leakage of the oil. You may easily detect this if the metal at the boltholes present in the oil pan is being pushed inward. This usually takes place around the boltholes. Thus, take care of all these things as a part of maintenance of the used oil pan. Furthermore, it will help to prevent the leakage of oil.
The used oil pan is easily available at several online catalogs. Their customer care representatives are ever ready to solve your queries regarding the product. Therefore, do not deprive your car of this must to have device and order it now.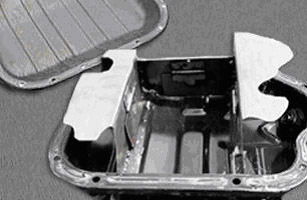 Locate Used Oil Pan Transmission Here!
Buy Recycled Used Oil Pan Transmission - Shop Online

The world isn't the same as it was fifty years ago. We're on the brink of a global disaster with warming and pollution. At Automotix, we take these things into consideration and have delivered cost-effective, eco-friendly options for the many consumers out there. Automotix does its part to help the environment by recycling used parts and keeping junk scraps - rubber, metal, and plastic - out of the environment.
The United States is one of the largest producers of non-degradable scraps. As citizens, we it to ourselves to do our part to reverse this trend - by purchasing used parts from Automotix, you're not only saving money, you're helping to heal the environment.
Shop Online > Choose Make >
Find below some examples of used Oil Pan Transmission requests
---

Vehicle
Part
Buyer Location
Action

This complete guide is filled with valuable tips on how to buy used parts, where to look for quality salvage parts, how best to determine a fair price, ways to validate salvage yards, and how not to get ripped off by fraudulent wrecking yards. A must have for anybody buying parts.
Get your copy now!