Quarter panel is one of the major car components. It is connected to the entire vehicle body. It is usually a sheet metal component on car. On both sides of vehicle, quarter panel is attached. Both the front and back of vehicle incorporates lock pillar. Lock pillars are used for locking the doors. Quarter panel is attached to both of them.
Quarter panel on front side is comprised of body skin or sheet metal. This sheet metal starts from the area of hood front up to the front of door. It is generally a separate part and is welded on a few places. Thus, it can be replaced easily. If the fender of your vehicle gets crouched then replace it immediately. Moreover, its replacement will be easy and pocket friendly. Nowadays, fenders have usually rubber-like plastic. This results in absorption of small impacts and without any damage.
On the other hand, the rear quarter panel starts from the rear area of rear door edge up to the rear door of the other side of car. The composition of rear quarter panel is outer skin and inner panels. Inner panels play significant role in the back of car. It avoids some severe vibrations and weak construction.
As quarter panel are found at the vehicle's exterior area, they are prone to accidents and collisions. Thus, it would result in damaging of quarter panel. Apart from accidents, rust can also lead the damaging of quarter panel. In order to make the quarter panel safe from rust or accident, you must install one patch panel. Installing a patch panel would avoid replacement of complete body panel.
Installation of a new quarter panel demands a complete research before buying. You can also save your hard-earned money as well as precious time by opting for used quarter panel. The used quarter panel is available on various online catalogs. They are available in varied styles and sizes. Thus, you can choose according to the requirement. There is no need to bother about the reliability and durably of the used quarter panel, as they are made up of high quality. If you have any query regarding the used part, you may cal the customer acre representative. They are available for 24 hours. Moreover, the used quarter panel also offers a warranty package that covers free labor and parts. They also provide free-roadside assistance, towing allowance and enhanced re-sale value.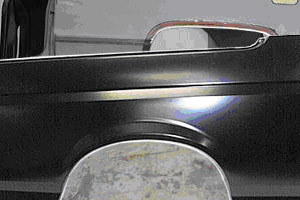 Locate Used Quarter Panel Here!
Buy Recycled Used Quarter Panel - Shop Online

The world isn't the same as it was fifty years ago. We're on the brink of a global disaster with warming and pollution. At Automotix, we take these things into consideration and have delivered cost-effective, eco-friendly options for the many consumers out there. Automotix does its part to help the environment by recycling used parts and keeping junk scraps - rubber, metal, and plastic - out of the environment.
The United States is one of the largest producers of non-degradable scraps. As citizens, we it to ourselves to do our part to reverse this trend - by purchasing used parts from Automotix, you're not only saving money, you're helping to heal the environment.
Shop Online > Choose Make >
Find below some examples of used Quarter Panel requests
---

Vehicle
Part
Buyer Location
Action

This complete guide is filled with valuable tips on how to buy used parts, where to look for quality salvage parts, how best to determine a fair price, ways to validate salvage yards, and how not to get ripped off by fraudulent wrecking yards. A must have for anybody buying parts.
Get your copy now!