You must replace the tire of your vehicle, when its natural lifespan approaches its end. Apart from the time span, several other factors also affect the quality of tire, such as storage, temperature, punctures and your way of driving. The ideal time to replace a tire is the moment you feel unsafe while driving. The tread wear indicator indicates the wearing of tire. When you drive in normal conditions, the usual mileage is 40, 000 miles. But, certain special tires offer mileage up to 80, 000 miles.
When the tire wears, its original balance gets affected. The cause for their imbalance is the uneven distribution of mass due to wearing. Vibration problems are a major symptom of tire wear. It affects the mileage, handling and speed of the vehicle. Computer based balancing is ideal for spinning wheel or tire assembly. It also senses the heavy spots. Dynamic balance is the best kind of balance.
While replacing your old tire with a new one, you must ensure that it should not be damaged in any way. Tire beads should be securely mounted. Moreover, go for tires with close tolerances.
As, brand new tire is quite expensive you may also opt for used tire. Used tire is easily accessible through various online catalogs. They are available in various designs according to your requirement. Firstly, the performance tires are designed for higher speeds. Their soft rubber compound offers improved traction during high speed. They are also known as summer tires. The second variety of tire includes winter tires. They are designed to perform to perfection during winter season. The tread of tire is comprised of rubber compound, which is softer than summer tires. Thus, they can grip well on ice and snow. Winter tires are usually marked as M+S (Mud and Snow). All season tires are of the third variety of tires. They can perform on both the wet roads and icy roads. They are also marked as M+S. But, as its performance is compromised during summer, it would not be able to perform well during winter.
A used tire is also durable and reliable, as it is made up of high quality rubber. While ordering, just ensure a few things, such as overall width, diameter, revolutions per mile, section height and section width. Section width is the linear distance in between the outer walls of an inflated tire, minus any load. On the other hand, section height of unloaded tire comprises of distance from the seat of rim up to the outer surface of tread.
So, order it now and improve the performance of your vehicle. If you have any query regarding the used tire, call any customer care representatives.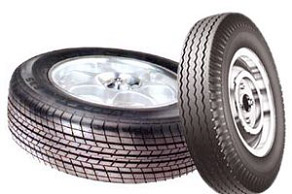 Locate Used Tire Here!
Buy Recycled Used Tire - Shop Online

The world isn't the same as it was fifty years ago. We're on the brink of a global disaster with warming and pollution. At Automotix, we take these things into consideration and have delivered cost-effective, eco-friendly options for the many consumers out there. Automotix does its part to help the environment by recycling used parts and keeping junk scraps - rubber, metal, and plastic - out of the environment.
The United States is one of the largest producers of non-degradable scraps. As citizens, we it to ourselves to do our part to reverse this trend - by purchasing used parts from Automotix, you're not only saving money, you're helping to heal the environment.
Shop Online > Choose Make >
Find below some examples of used Tire requests
---

Vehicle
Part
Buyer Location
Action

This complete guide is filled with valuable tips on how to buy used parts, where to look for quality salvage parts, how best to determine a fair price, ways to validate salvage yards, and how not to get ripped off by fraudulent wrecking yards. A must have for anybody buying parts.
Get your copy now!