Truck toolboxes are installed for the comfort of the driver. You may store different tools that are necessary, personal items, equipments for camping and other baggage etc. Their side units are equipped with handy drawers that are further used to store other supplies.
It is one of the most important accessories of the truck. In case you are tired of the old and worn out toolbox, you may replace it with a used yet good truck toolbox. Things like toolbox look simple but are worth every single penny you pay for it. It is often attached to the car's rear with the help of the car's hitch.
As such, when it comes to purchasing, the buyer come across so many different varieties and at times even gets baffled seeing all of them. Basically, three types of truck toolboxes are there that serve the purpose of the drivers. They are different from each other just on the basis of the material used.
Starting with aluminum toolbox, it is adorned with the diamond pattern on its surface. Therefore, they are also known as diamond plate toolbox. Being the first choice among the enthusiast car drivers, the boxes are especially designed for the lightweight cars. You may use them in your sports utility vehicles too as they are famous for their rugged appearance. It properly satisfies your concern for durability and is not at all heavy. Moreover, you will not face any problem while cleaning it. They are lustrous and are also available in neutral black.
Another one is the truck toolbox made up of plastic. If you are looking for a basic tools holder, then your search ends here. As opposed to the aluminum one, they are much cheaper and do not sound high in quality too. However, they are ideal for storing leisure accessories. Being a good companion in your vacations, they provide you a scope to accommodate an extra baggage.
The above truck toolboxes are followed by steel toolboxes. They make your day with a display of their rigidity and on top of that, their looks. They are known to perform heavy duty, thereby not letting down its serious user. You may choose a one with a metal coating or with a powder coating. Both are highly beneficial and sturdy.
While shopping for the used truck tool boozes, you need to look out for their resistance to weather and water. Also, check for any kind of damage that may be hidden with some other material. Being versatile, they must provide you the safety of keeping your necessary articles.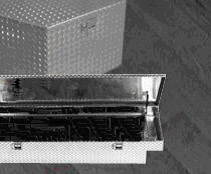 Locate Used Truck Toolbox Here!
Buy Recycled Used Truck Toolbox - Shop Online

The world isn't the same as it was fifty years ago. We're on the brink of a global disaster with warming and pollution. At Automotix, we take these things into consideration and have delivered cost-effective, eco-friendly options for the many consumers out there. Automotix does its part to help the environment by recycling used parts and keeping junk scraps - rubber, metal, and plastic - out of the environment.
The United States is one of the largest producers of non-degradable scraps. As citizens, we it to ourselves to do our part to reverse this trend - by purchasing used parts from Automotix, you're not only saving money, you're helping to heal the environment.
Shop Online > Choose Make >