During the 80's, 90% of wheel production was based on steel. Aluminum made its mark by the year 2003, and now, 60% of production is aluminum based. One of the major reasons for the success of aluminum wheels is its tight tolerances, which results in great uniformity and a little vibration on the road. But, cost of aluminum is one of its major drawbacks. On the other hand, steel wheel / steel rim are resilient to damage, along with an affordable price tag.
Wheels made of steel are preferred over other wheels. The stamped inner part is joined with the rolled outer rim. Nowadays, they come welded. Its setup is quite strong and can be repaired easily. These steel wheels can also be painted over. Moreover, they are cheap to fabricate. Several manufacturers use stronger and thicker material during its manufacturing. This enhances the load capacity. One major drawback of steel is its weight. They are a little heavier and a little less attractive than aluminum wheels.
The latest designs of steel wheel offer great ventilation opening. Its appearance is quite similar to the thin-spoke aluminum. The dual-phase steel wheel also has certain great features, such as, thin walls and low weight. It also offers elongation, a factor that results in better formability. It also provides great spread between the yield strength and tensile strength. This leads to easy bending without breaking. Moreover, the dual-phase is immensely popular among European wheel manufacturers. Since the late 80s, they have been using it.
It is quite possible to make a stamped steel wheel as good looking as machined aluminum without some outside help. By treating the spokes of the center disk as backbone, wheel manufacturers are using stainless steel and painted plastic attachments to attain the look of chromed aluminum.
Thus, steel wheel is more user friendly, as it is pocket friendly, weight saving and also available in great designs and styling. Steel wheel is still popular among the people, as about eight million steel wheels are on road. These styled steel wheels are also known as steel wheels with styled bonded trims.
Instead of buying a new steel wheel/ Steel Rim, you may also opt for used part. They are available on user-friendly online catalogs. If you want to replace steel wheel to enhance the appearance of vehicle, you may call the customer care representatives. They will solve all your queries regarding steel wheel/ steel rim.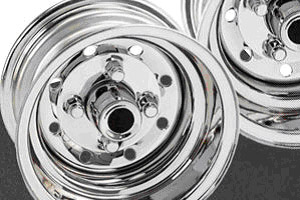 Locate Used Wheel Steel Here!
Buy Recycled Used Wheel Steel - Shop Online

The world isn't the same as it was fifty years ago. We're on the brink of a global disaster with warming and pollution. At Automotix, we take these things into consideration and have delivered cost-effective, eco-friendly options for the many consumers out there. Automotix does its part to help the environment by recycling used parts and keeping junk scraps - rubber, metal, and plastic - out of the environment.
The United States is one of the largest producers of non-degradable scraps. As citizens, we it to ourselves to do our part to reverse this trend - by purchasing used parts from Automotix, you're not only saving money, you're helping to heal the environment.
Shop Online > Choose Make >
Find below some examples of used Wheel Steel requests
---

Vehicle
Part
Buyer Location
Action

Used 1978 Ford Bronco Wheel/Rim Steel

Used 2015 Mini Cooper Wheel/Rim Steel

2015 Mini Cooper
Coupe, Gas/Injection, 6-Speed-Std

Wheel/Rim Steel
17"xOther", 1-7 spokes, Passenger Front
I am having troubling finding a cheap wheel rim for a Mini Cooper S.Can you help?Here's the details.Jim205/45R177Jx17 ET54Center Bore: 66.6 mmBolt Pattern: 5x112 mmBolt Thread: M14 x 1.25Bolt Hex: 17 mm

Albany, Indiana 47320


This complete guide is filled with valuable tips on how to buy used parts, where to look for quality salvage parts, how best to determine a fair price, ways to validate salvage yards, and how not to get ripped off by fraudulent wrecking yards. A must have for anybody buying parts.
Get your copy now!