Used Auto Parts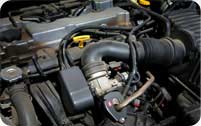 At Automotix.net we offer many services to both the buyer and the seller. If you have used parts you need to buy or sell Automotix.net is the place for you. We make it our life's ambition to help you find used auto parts, buy used auto parts, or sell them. Check us out and save time, energy and money
Used Auto Parts
 > 
Used Engines/Trans
 > 
Used Part Locator
 > 
Used Parts Hotline
 > 
Salvage Yard
 > 
More
With Automotix.net finding used parts online just became easy. We not only offer the largest inventory available but we make it fast and efficient for you to find all the parts you need. We are constantly looking for, and acquiring new suppliers with a network of over 200 locations. Used parts buyers--this is the online store for you. It is our goal to help you find the exact used part you are looking for at the best possible price.
Shop Online for Used Auto Parts! 
We offer only high quality certified used engines and transmissions for most cars and trucks. Our inventory is refreshed daily and has over than 100,000 engines and transmissions to choose from. Whether you are looking for domestic, import or Japanese engines/transmissions, we have them all. We warranty all our salvage and used engines with an exceptional 1 year Warranty. Check out our engine and transmission store. If you don't find what you are looking for, then give us a call and we will find it for you.
Shop Here for Used Engines N' Transmissions! 
We provide a used parts locater that is second to none. If it is out there, we can find it for you and get it to you quickly and affordably. We warranty our parts and prices so you know you are getting the best. We are here to help you. We strive to make your used auto part shopping a pleasant experience. Back yard mechanics, we are your parts supply solution. Don't waste time and money calling or driving all over trying to find the best price on a part you hope will work. Go to Automotix.net and put the fun back into those projects.
Locate Used Parts Here! 
We offer a used parts hotline for salvage yards, junkyards, wrecking yards (dismantling yards) and used parts dealers. We help you find the parts for your customers so that you can provide that fast, low-cost friendly service. If it's out there we can access it. Because of our networks and over 200 storage places we can offer the lowest possible shipping costs and we gladly pass the savings on to you.
Visit our Yard Parts hotline! 
Used auto parts sellers can access the leads needed to find just the part you need. Don't waste time calling each supplier or waiting for that email or fax, go online at automotix.net/login and let the search begin. Put us in your bookmark and you will find the smile is back in place as you search for and find all the parts you need.
Salvage Yard, Signup Up Here! 
Not sure what that part is called, or exactly how it hooks up? Well, scratch your head in frustration no more. Let your fingers do the walking to Automotix.net and access our complete guide. You will find the correct depiction of parts and their discussion. The descriptions will guide you to the right part the first time. Parts buyers, this is your aspirin. No more headaches from not knowing what that thing-a-magigit is called or where that what-cha-ma-callit goes. You can describe and repair your car like a pro. Just go to Automotix.net for all your parts and services. Make your kids, significant other, boss, or neighbor happy; finish that long ago started project. Let us help you find the best part at the best price for all your automotive needs.
Browse the Used Parts Guide Here! 
At Automotix.net you can access previous auto parts leads - for sellers. If you want to know where you bought it from or can't remember who had what you now need, this is the place for you. We have archived our auto parts leads so that we can help you buy and sell just what you need when you want it.
Explore our Sales Leads archive! 

This complete guide is filled with valuable tips on how to buy used parts, where to look for quality salvage parts, how best to determine a fair price, ways to validate salvage yards, and how not to get ripped off by fraudulent wrecking yards. A must have for anybody buying parts.
Get your copy now!