Used Japanese Engines For Your Import Car Or Truck
To read more about Rebuilt Engines Store, please visit our
Information
page. If you have other questions or problems, please
Contact Us
.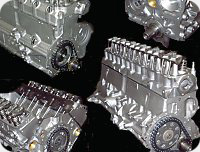 Selecting Used Japanese Engines
No matter where you're at in the world, Japanese cars and trucks are always among the most popular on the road. Most people don't realize just how many of today's most popular automobiles are products of Japan. Toyota, Nissan, Honda, Mazda, Subaru, and many more popular mainstays are all Japanese brands. For the most part, Japanese engines last a long time, but like everything built by man, they sometimes fail. Automotix LKQ has a wide assortment of used Japanese engines to select from when the time comes.
Examining the Japanese Engine
Although the Japanese are virtual wizards of the automotive world, there's really no difference in their engines and the engines built elsewhere. They produce internal combustion engines for automobiles, using the same standards.
In internal combustion engines, fuel is ignited within an enclosed area, creating an explosion and forcing a piston to travel back and forth through a shaft. The Japanese are said to use superior materials and construct their engines better, but they're never strayed from this basic formula. Every part in a Japanese engine works together to ignite the process and to keep it going.
Whether it's a diesel or gas engine produced in Japan, the parts are still susceptible to malfunctioning. A running engine is overwrought with friction and heat, and it's fairly common for an engine to become damaged beyond repair.
The Automotix Difference
Automotix is a change of pace from the regular business model. Most suppliers make sure to charge as much as possible for their bottom line. And to add insult to injury, most of the Japanese engine imports are grossly overrated, underperforming and most of the time not even under warranty. We're able to change that by offering the highest-quality used Japanese engines at the lowest possible price. Every used engine import we sell comes with a warranty and a low price guarantee. We make sure to do things differently here.
When you need an engine for your Japanese car or truck, you'll always get the optimum results by purchasing OEM parts. OEM stands for Original Equipment Manufacturer, and that means that the engine you select for replacement is the exact same size and model as the one you're taking out. Automotix only deals in OEM parts, so the perfect fit is never a question. Your used import engine is going to fit, no problem.
All used engines are also going to run just like the day they were manufactured. We have a gigantic network, with many options due to our 200-plus salvage yards. The usual stigma that comes along with a used part doesn't exist in our world. We'll receive a Japanese car or truck that's being salvaged for unrelated reasons and then pull the engines out. We then inspect, fine-tune and clean every engine so that it's literally as good as new. You won't find other places willing to go to such lengths to ensure that your engines last.
Japanese engines are in abundance on our site. Every single one is offered up to you at the lowest possible price and is guaranteed to be the best replacement option you can select.
Auto Parts Store Search Feature
We have a well-qualified team of engine specialists waiting to answer any concerns you may have when it comes to Japanese used engines. Whether you're looking for a particular engine or just have a question about your current one, we'll be here to address those concerns. However, customers searching for their motors rarely have to contact us. Our website is designed specifically to make searching as simple as it can possible be.
On the Auto Parts Store site, you'll find a search engine feature with two drop-bars. On the first, you can select the type of car or truck part you need. On the second, you will narrow the search by selecting the particular make. After that, all you have to do is find the particular model and year, and you'll have the part. It's a very simple process that can be completed in seconds. Our powerful search engine scans the entire catalog in an instant, finding whatever you request.
You can also use the Google custom search as a time saver. Simply type in the name of the part or the part's number. After that, it's as easy as pressing enter. The search will bring up anything relative to the search terms used, so the more specific you are, the better the results will be.
Every once in a while we'll get so backed up with our salvage yards that we won't be able to update the site. If you're looking for a particular Japanese used engine and can't find it, that doesn't necessarily mean we don't have it. It could be that we just haven't got around to listing it yet. So if you can't find your part, simply let us know and we'll find it for you. If we don't have it, we'll contact you when we receive it.
Our Auto Parts Store is always easy to browse. It's designed to be wholly user-friendly, and it hasn't managed to disappoint yet. Everyone who stops in at Automotix is able to use the features without the hassle usually associated with search engines.
Still Confused? Whether you are not sure how to find the correct used motor for your vehicle, need a reliable replacement engine for your pickup truck, need a repair tips on your diesel engine, want to swap a car engine, want to purchase a high quality used domestic or Japanese engine, need a longer warranty on one of our automatic transmission or truck engine, or simply want to inquire about a automatic transmission or manual transmission for your sport vehicle, we are here to answer your questions and help you find the truck engine or car transmission for your automobile. Please call us toll free with any auto engine related question or transmission problem. We're here to help you take the guesswork out of choosing your next purchase.
Most Popular Used Engines