Replacement Engine - Used or Rebuilt
To read more about Rebuilt Engines Store, please visit our
Information
page. If you have other questions or problems, please
Contact Us
.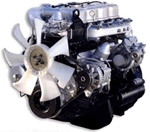 Finding the Right Replacement Engine
Automobiles are undoubtedly one of the most important-and definitely the most-used-inventions of mankind. Could you honestly imagine life without the convenience of your car or truck? You'd be back in the stone ages. That's why there's such an emphasis on auto repair when your vehicle breaks down. People need their vehicles to function properly. When you're in need of a new engine for that car or truck, Automotix LKQ can help.
Underneath the Hood
Engines aren't as complicated as people may think. In fact, they're simple things to figure out. Automobile engines are internal combustion, air-breathing engines. They use air intake to oxidize the fuel and, once ignited, the gas provides the energy source.
Every part of the engine plays a significant role. Parts work in conjunction to provide the initial firing of the system. Your ignition triggers the battery to provide the spark plugs with their spark. That then ignites the gasoline and causes an explosion to go off inside of the cylinders, thus forcing the pistons to move. This process happens hundreds of times per minute, and your engine is constantly producing motion. Other parts like alternators, the distributor cap, the radiator, etc, all play key roles in keeping this process alive.
Since the engine's pistons are always in motion, it's important to keep them lubricated. This is where the oil comes in. The number-one engine killer is the dreaded lock-up, caused from bad or no oil. But there are many other reasons why an engine may need to be replaced.
Getting Help with Automotix
What we offer is a break from usually big-business option. Instead of providing overpriced, underperforming parts, we have completely reversed the business model and offer each and every customer a quality OEM part, guaranteed under warranty, and guaranteed not to break the bank. We sell used replacement engines. But don't mistake the word "used" as taboo. There's a reason Automotix LKQ is the best in the business, and it's not in spite of our used and refurbished options - it's because of them.
We deal with quality OEM parts through salvage yards. This means that, when a car or truck comes in, we take the best and leave the rest. For example, some automobiles are junked because of a shot transmission. The auto's engine, however, is still in perfect working condition. We take the engine, hand it off to our highly trained and highly qualified mechanics, and they then clean, tweak, and repair everything about that particular engine. By the time it's through with our thorough process, that "used" OEM engine is functioning like it's brand new.
The good news for the consumer is that we're able to provide replacement engines, of pristine quality, for rock-bottom prices. Our services are the absolute best in business, and we have years of experience and countless sales to back that up.
Dealing with your insurance company can be tricky, and looking for a brand new part is going to set you back outrageous prices, sometimes more than the Blue Book values of your automobile. Automotix LKQ's parts, however, are readily available, so there's no red tape, and they're affordable on any budget.
No matter what type of car or truck you drive, we will have or find the replacement engine that you need. Our parts are OEM, meaning they're straight from the Original Equipment Manufacturer, so there's never any worry about the fit. You can purchase the exact engine for the exact make, model and year your automobile is.
Using Our Search Feature
Although we're always here at Automotix LKQ and always willing to answer your questions, we've set up our website to be as informative and as easy-to-use as possible. By using our Auto Parts Online search feature found on site, any user can click the drop-bar, select their vehicle's manufacturer, pick out the make, the model, and then select the year to find the exact type of replacement engine needed. The search encompasses the entire Automotix LKQ network, so if that part's registered in our database, you will be able to easily find it.
There's also another extremely user-friendly feature on the site that enables you to search your auto part by the name or number. This is a Google custom search feature, and by typing in any search term, you will find a litany of parts. The more specific you are, the more your search will be narrowed down. All you need to do is type it in, our Auto Parts Store website does the rest.
If you cannot find the replacement engines you seek, that doesn't mean that we don't have the part. It's probably due to our parts overflow. With so many yards, it's hard to keep our catalogs updated. But if you can't find the part you need, simply contact our experts, anytime, and they will locate the part for you. You can contact our engine experts for anything you need help with.
Our catalog is one of the main features on the site and one of our best features as a store. Making it easy for the customer to find replacement engines isn't a task we take lightly. Automotix LKQ can provide any customer with a quality, affordable alternative to a new engine. Just check out our massive selection of OEM used and refurbished engines. They're easy to find and easy to buy.
Still Confused? Whether you are not sure how to find the correct used motor for your vehicle, need a reliable replacement engine for your pickup truck, need a repair tips on your diesel engine, want to swap a car engine, want to purchase a high quality used domestic or Japanese engine, need a longer warranty on one of our automatic transmission or truck engine, or simply want to inquire about a automatic transmission or manual transmission for your sport vehicle, we are here to answer your questions and help you find the truck engine or car transmission for your automobile. Please call us toll free with any auto engine related question or transmission problem. We're here to help you take the guesswork out of choosing your next purchase.
Most Popular Used Engines