Used Motor (Buying Used Motors)
To read more about Rebuilt Engines Store, please visit our
Information
page. If you have other questions or problems, please
Contact Us
.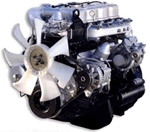 The engine of your automobile is basically like the organs of a human body. You'll never make it through without experiencing some type of internal problem. Luckily for auto owners, however, Automotix LKQ makes it easy to have those automobile motors replaced if need be. It doesn't matter what you're in the market for, whether you're driving a big-rig truck or a compact-sized car, we have a replacement motor to meet your needs.
A Closer Look at Motors
Once you go underneath the hood, you'll find a world where everything must work in perfect harmony in order to produce results. Internal combustion engines use a mixture of gas and air, with a spark for ignition, to drive pistons which, in turn, drive your car or truck.
You may not be aware, but the engine is a symphony, with the battery sending a message to the spark plugs to fire, the plugs lighting the oxidized-from the air intake-fuel and the pistons moving back and forth through their well-oil housing. All this takes place almost instantly, and the process is kept alive by other engine components.
There are many minor issues that can cause the engine to need repairing, but only a few that would call for an engine replacement. Old age, a lock-up, cracked blocks, and damaged pistons may send you shopping for a replacement. Although you may take great care of your automobile, these things can still happen.
Fixing Vehicles the Automotix Way
Automotix has made its name in the industry by literally shattering every preconceived notion about used parts. Yes, we're a distributor of used OEM parts, but that certainly doesn't mean we can't offer the highest possible quality. Every single one of our motors comes with an ironclad warranty, so you know that if anything goes wrong, your part is insured. And our parts are also guaranteed to be the most affordable on the market.
What does an OEM part mean for you? Well, for starters, OEM means that the part is guaranteed to be what you need. OEM stands for Original Equipment Manufacturer. So if you're in the market for a Honda or Ford motor, respectively, that's exactly what you'll get: the engine you need, make, model and year, with Automotix LKQ's award-winning quality.
We ensure that our used OEM motors meet up to high standards by only accepting the absolute best. When someone brings a vehicle into one of our network's many salvage yards, we take the engines from the automobile, send it through our team of professional mechanics and engineers, and they make any and all necessary repairs and adjustments to the motor. This means that you're receiving a used motor that has been through every possible test to ensure its quality.
For the consumer, this allows a huge monetary savings. Purchasing brand new motors is going to cost a lot of money, especially in today's rough business climate. And with the new efficient standards the powers-that-be are demanding, you'll be lucky if you can even get a new motor at all. If it doesn't meet up to the "green" standards, you might not find it at all. Automotix LKQ and our wide array of used motors make it possible for you to find the engine you need for the price you want to pay.
Our Auto Parts Store
Searching the Automotix Auto Parts store will allow you to easily find whatever type of motor you need for whatever vehicle you need it for. We intentionally built our website with the user in mind. Instead of attaching all the bright and colorful bells and whistles, we instead created a user-friendly layout, emphasizing the search tools so that you can always find the exact part you're after in a pinch.
Using the site's search engine is easy. To find the part you need, simply select the main category from the first drop-bar. If you're after used motors, then you'll want to select "Used Engines/Transmissions." After that, narrow your search field by choosing the make in the lower drop-bar. From here, you'll receive a thorough list of automobiles to select from. Just choose the particular model of your automobile and then the year. If we have in part at any of our many locations, it will appear on the Auto Parts Store page and provide you with the necessary information, including price, warranty, and other pertinent info.
The entire page is set up so that customers will have absolute no trouble finding the exact motor that they need for any type of automobile they own. There's even a search of our entire network through the use of Google custom search. This allows you to type in the name of the part or the part number in order to find what you're looking for.
If you've used our user-friendly features and still can't locate the part, don't fret. We may still have the part in stock, only we haven't got around to updating our catalogs yet. We are constantly adding parts to our network, but they come in at a faster pace than we can post them. To have us locate the part for you, simply contact us and tell us exactly what you're looking for.
Feel free to contact one of our engine experts for help locating a part, or even just for some engine advice. Our customer staff is always professional and always friendly. We're more than happy to help in any way we can.
Still Confused? Whether you are not sure how to find the correct used motor for your vehicle, need a reliable replacement engine for your pickup truck, need a repair tips on your diesel engine, want to swap a car engine, want to purchase a high quality used domestic or Japanese engine, need a longer warranty on one of our automatic transmission or truck engine, or simply want to inquire about a automatic transmission or manual transmission for your sport vehicle, we are here to answer your questions and help you find the truck engine or car transmission for your automobile. Please call us toll free with any auto engine related question or transmission problem. We're here to help you take the guesswork out of choosing your next purchase.
Most Popular Used Engines