Select Model
---
Other Applications
---
Used Kia Engines & Motors Sales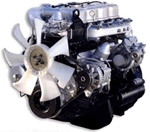 Our used Kia engines/motors come with 1-year warranty and 30-day price match guarantee. Buy your Kia engine from us with confidence knowing we stand behind the quality of our used car and truck engines.Save time and money searching for a cheap Kia engine. Our Kia discount price is guaranteed for 30 days. For store details visit the Store Information
Durability is the Kia
About a decade ago, a car exploded onto the American scene that shook up the industry. Though they have been around since 1944, Kia Motors, by way of South Korea and a subsidiary of Hyundai, took us by storm recently, offering quality cars for thousands less than anything else on the market. The general public didn't know it at the time, but these affordable cars were a godsend. With the ever-rising prices of gasoline in America, Kia has proven to be one of the more fuel-efficient cars out there. People who bought their Kia's years ago are doing everything they can to hold onto them. When their engines lock up or their transmissions fail, they turn to Automotix to quickly get them back on the road.
Get your hands on our used Kia automatic transmissions. Our price on the Kia Sephia automatic transmission can't be beat. We carry 2.2, 5.3, 3.3, 1.8, models and more. We also carry engines for your Kia. No matter what size or the particular model, we have exactly what you're looking for. Our great all around prices for 1.8L and 2.0 DOHC engines are unmatched in the industry. If you need a used tranny or engine, then let Automotix get you up and running again.
For years now, Automotix has been supplying used auto engines and transmissions to thousands of satisfied customers. With over 200 salvage yards in the U.S., we're the premier used auto parts company around. We've supplied engines and transmissions to insurance companies, fleet companies, mechanics, car repair shops, and the do-it-yourself grease monkeys. We're now offering our quality parts to the general public at the same wholesale rate! This is an exciting time for everyone. By buying your parts directly from the yards that stock your engines or transmissions, you're completely eliminating the need for the middleman, thus saving you a lot of money!
This is great news to the public, especially Kia owners. Now you aren't forced to have your parts shipped in for an outrageous price. You can quickly shop at our website, and rest easy knowing that your part will arrive straight to your door. With any used transmission or engine we sell you, we offer a 1-year warranty on it. Unlike other companies out there, Automotix offers this to you standard. We're the only company around that does that. And for you bargain shoppers out there, we also have a 90-day price match guarantee. If you can find the same engine or transmission, with the same warranty and mileage, we'll match the competitor price in a heartbeat.
Customer satisfaction is our ultimate goal. You can get the cheapest price around, a full 1-year warranty and direct shipping all for one low price. And the best part: our parts have been chosen by huge companies for years, so you know that you're receiving quality when you shop with us! Giving you quality parts for a great price is just something we do well. Our retail price includes all fees like shipping and handling. With Automotix, what you see is what you pay! No hidden fees that will expand your total cost once you order. We don't deal that way.
Our website has a very extensive selection for all your used Kia transmission and engine needs. And with our huge selection of catalogs, you'll find thousands of makes and models. But if you're unable to locate your desired part, then we'll locate it for you. But don't worry at all - any part we locate for you comes with the same 1-year warranty.