Select Model
---
Other Applications
---
Used Mazda Engines & Motors Sales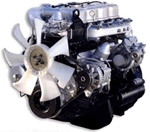 Our used Mazda engines/motors come with 1-year warranty and 30-day price match guarantee. Buy your Mazda engine from us with confidence knowing we stand behind the quality of our used car and truck engines.Save time and money searching for a cheap Mazda engine. Our Mazda discount price is guaranteed for 30 days. For store details visit the Store Information
Make it a Mazda
The Mazda Motor Corporation is a powerhouse in the automotive industry. In 2007, Mazda produced and sold over a million vehicles. Though the majority of these vehicles are produced and sold in Japan, the rest of the world really loves what this import has to offer. Mazda offers a line of fuel-efficient cars without being hybrids. These types of cars seem to be a hit with the majority of the population who prefer the power of a gasoline-driven engine over that of an electrical propelled automobile. However, Mazda's claim to fame in recent years has been their concept cars. With stylish, futuristic designs, Mazda's concepts for the Taiki and the Ryuga sports cars have really created a buzz. But for the here and now, Mazda owners enjoy reliable performance at an affordable price. But when the cars do break down, Automotix is right here to get them running again.
If you're looking for used Mazda engines or transmissions, then Automotix is as far as you'll have to look. We carry parts for the Mazda 323, 626, B1600, B1800, B2300, Cosmo, Millenia, Miata, Navajo, Rotary Pickup, Rx-3, Tribute, and many, many more. We carry multiple styles of transmissions for manual or automatic, and we have a wide selection of engines that lets you select from rotary style or piston-driven. For all your Mazda used parts needs, stop in at Automotix.
Automotix is one of the nation's leading suppliers of used auto transmissions and engines. With over 200 salvage yards, we're able to offer our products for a variety of brands. We currently hold thousands of parts which cover various makes and models for over 100 brands. In past years, our services were more for insurance and fleet companies who purchased our wholesale used engines and transmissions to reinstall them into cars, thus earning a hefty profit. But now, we're offering our services to everyone. The average Joe's of the world deserve to purchase their parts wholesale as well. And with our commitment to customer satisfaction, we guarantee that you'll never pay more than you should by shopping Automotix.
Our great prices are available to you any time of the day, and every day of the year. We only sell the highest-quality used parts around. We can offer these used auto parts to you at such a low rate because we deal directly with you. Unlike other companies who must order their parts, sometimes from an ocean away, we carry everything here in stock. So when it comes time to ship your product, all we have to do is grab it from one of our 200-plus yards. Other suppliers must pay the middleman-markup and leave you holding the bill for hundreds of extra dollars. By dealing directly with you, we ensure that your high-quality used engine or transmission arrived quickly, and most importantly, inexpensively.
With every Automotix part you purchase, you'll receive our 1-year warranty as a standard. This is something that other suppliers won't do. It's unheard of in this industry to offering any type of warranty on a used part - much less a full year! But we're so confident that our parts will last, it's something we gladly offer. We're also certain that you will never pay more with Automotix. And to ensure this fact, we offer you our 90-day price match guarantee. If you can find a part out there with the same warranty and mileage, we'll match the price instantly. Even if you can't find your part on our site, we'll locate it for you and still offer you our standard warranty and low price.