Select Model
---
Other Applications
---
Used Chevrolet Engines & Motors Sales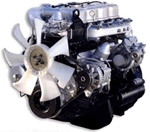 Our used Chevy engines/motors come with 1-year warranty and 30-day price match guarantee. Buy your Chevrolet engine from us with confidence knowing we stand behind the quality of our used car and truck engines.Save time and money searching for a cheap Chevrolet engine. Our Chevrolet discount price is guaranteed for 30 days. For store details visit the Store Information
Chevrolet Used Engines and Transmissions at the Best Price on the Net
Perhaps one of the best known automotive brands around the world is that of Chevrolet. Chevy owners can almost always be certain of finding the right used Chevrolet engine or transmission when the existing power plant gets old and decrepit. But, if you are like most auto owners, you want to make sure you get something just a little better, more dependable, economical, more powerful or all of the above when you are looking for a used Chevrolet engine. The best way to be certain of the right fit, right quality and right price is to search the extensive network of used engine and transmission options available on Automotix.net.
Our Chevy salvage network is the best
Our supplier network is two hundred strong and growing. We get daily and sometimes hourly up dates from these two quality salvage yards, dismantlers and wrecking facilities. Our experience with providing used engines and transmissions to car repair shops, mechanics, fleet companies, and insurance companies has given us the knowledge base to expand our services to the general public, but maintain the same low prices, high quality and availability as we provide to the wholesalers.
The extended network scattered throughout the country means you save on freight costs, when you order your Chevrolet used engine or transmission direct from one of our suppliers. You are certain to find a top quality dismantling yard near your location. This means there is no middleman markup. You are purchasing directly from the salvage yard.
Unbeaten Quality on Used Chevy Engines and Transmissions
We are so certain of the quality of the used GM Chevy engine available to you that we guarantee the part. Every used chevy engine or transmission carries our best quality guarantee of 365 days--a full year. This guarantee is unique to Automotix. None of our competitors provide this kind of assurance to you, the customer.
Prices that You Can't Beat
You may already have heard about our ninety day price match guarantee. If you find the same Chevrolet engine or transmission, with the same mileage and warranty from a competitor within ninety days of the purchase date, we will match the price on the competitor's used engine or transmission.
Besides reduced freight cost and guaranteed quality, our price doesn't surprise you with extra fees for shipping or handling when you get to the checkout counter. The quoted price is what is costs to get your Chevrolet used engine from the supplier to your doorstep.
Chevy Engine and Transmission Search service
Maybe you haven't found exactly the right Chevrolet used engine that you want by looking at our online catalog. Because inventory levels change so quickly in the business, why not give us a chance to find the right engine for your needs. We're in the know when it comes to inventory updates information provided by our supplier network. We'll find the part for you, provide our best guarantee on the part and put you in touch with a supplier near your location so you can purchase with confidence that you have the lowest possible price. Your item will ship faster so you can get your Chevrolet back on the road sooner.