Select Model
---
Other Applications
---
Used Chrysler Engines & Motors Sales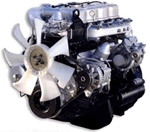 Our used Chrysler engines/motors come with 1-year warranty and 30-day price match guarantee. Buy your Chrysler engine from us with confidence knowing we stand behind the quality of our used car and truck engines.Save time and money searching for a cheap Chrysler engine. Our Chrysler discount price is guaranteed for 30 days. For store details visit the Store Information
The Best Quality Chrysler Used Engines and Transmissions
Since 2007, Chrysler hold the honor of being the world's largest private automaker. The brand had its beginnings in 1925 and millions of automobiles around the world bear the pentastar Chrysler symbol proudly. If you own a Chrysler, you are proud of the quality of the workmanship and appearance. If you find yourself in need of a Chrysler used engine or transmission, you want to make certain that the replacement engine is equal to or greater than the quality of the original equipment. By taking advantage of the commitment to quality and service provided by Automotix, you can have peace of mind about the purchase of your used Chrysler engine.
If it is out there, we can locate it
Our network of suppliers, wrecking yards, dismantlers, and salvage facilities is huge and spread all over the country. When a Chrysler used engine or transmission comes into the system, we know about it. We can notify you of the part you have been looking for even before it is placed online. Fleet companies, insurance companies, car repair facilities and mechanics already know about our search service. They have been using it for years. Now, it's available to the general public with the same great prices, quality assurance and economical shipping rates. Being able to purchase directly from the supplier can save hundreds of dollars in mark up fees eliminated when you don't have pay the middlemen.
Lower freight costs
When you purchase directly from the supplier, and the supplier is located closer to your receiving location, your used Chrysler engine will cost less to get from the salvage yard to your doorstep. We link with over two hundred of the top salvage yards around the nation, so inventory lists are changing constantly to bring you the latest parts with assurance of lower costs.
Price Matching
We stand behind our promise to provide the lowest possible prices. We will match any competitor's price for the same part with the same mileage, warranty and age for a full ninety days. You can buy peace of mind--just buy through Automotix. We also think it's important that the price you see quoted is the one you pay. Automotix doesn't add on freight and handling costs after you have picked the used engine or transmission for your Chrysler. All fees are included in the price you see.
Our Used Engines and Transmissions Quality that Can't be beat
Whether it is a Chrysler used engine or any other of the many brands you can locate through Automotix, we provide a full 365-day guarantee for products we sell to you. That's unheard of in the business, but it is available exclusively through Automotix. Why run the risk of dealing with a small local auto salvage shop when you can get a part for your engine or transmission--or the whole thing--at a guaranteed quality level, and the best prices on the internet?
All around convenience, quality, economy and speedy delivery is just part of what you get at Automotix.net. Customer service that doesn't end with the mouse click is our commitment to you.