Select Model
---
Other Applications
---
Used Dodge Engines & Motors Sales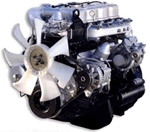 Our used Dodge engines/motors come with 1-year warranty and 30-day price match guarantee. Buy your Dodge engine from us with confidence knowing we stand behind the quality of our used car and truck engines.Save time and money searching for a cheap Dodge engine. Our Dodge discount price is guaranteed for 30 days. For store details visit the Store Information
Saving Money Is A Must When It Comes To Dodge Engines or Transmissions
Owning one of the toughest cars or trucks on the market means keeping that ram toughness in your replacement engine or transmission. Do you also want great cost savings on your used Dodge truck or car engine? If getting the best price on that used engine or transmission is your goal, then Automotix is your answer.
If you want to spend more time driving than working on that great Dodge of yours, get your parts from Automotix. You will actually get a transmission or motor that works. No more wasting money by having to buy the same part over and over from a salvage or wrecking yard. Get a used automatic transmission that works in all gears, not just one or two.
Because our suppliers are located all over the country, you save money in shipping fees too.
Getting Used Dodge Engines and Transmissions Doesn't Have To Be Hard
Save yourself the time of running from salvage yard to wrecking yard trying to find a good used Dodge transmission. If a great used Dodge engine is what you need, we have that too. Don't go out in the heat or cold, shop in your bathrobe if you want, just go to Automotix.net and get your used transmission or engine. Our inventory of used Dodge transmissions and engines changes hourly. Check out our site or look in our catalog. If you don't see it, give us a call and let our friendly knowledgeable staff find it for you. You will get the right used engine or transmission the first time, every time.
We keep track of the parts that are coming in on a daily basis so that our information is up-to-date and accurate. Finding your ram tough transmission is easy due to our network of dismantlers (wrecking yards) and salvage yards. Finding your Dodge car engine is a breeze. Don't forget-- just because you can't see it doesn't mean we can't get it for you.
The Best Warranty Around
Do you hate throwing money away? If your answer is yes, then Automotix is your best site to purchase used car and truck engines or transmissions. If you want to know your replacement part won't break down five days after you installed it, then get it here. We warranty our entire used auto engine and used transmissions inventory. Let us wow you with our one-year warranty, price guarantee and great customer service.
Buy Smart
Save yourself time, energy and money. Buy direct. Don't go through a middleman. For many years, we have been the premier used engine and transmission supplier for insurance companies, car repair shops, fleet companies, mechanics, and do-it-yourselfers. We now offer to you--the consumer--the same price, quality and warranty as the wholesalers receive. Don't go anywhere else for your used Dodge engine or transmission. Take advantage of one-stop shopping for all your used engines and transmissions needs. Automotix--there when you need us, where you can find us, making life just a little easier.