Select Model
---
Other Applications
---
Used Freightliner Engines & Motors Sales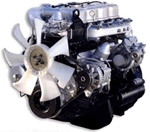 Our used Freightliner engines/motors come with 1-year warranty and 30-day price match guarantee. Buy your Freightliner engine from us with confidence knowing we stand behind the quality of our used car and truck engines.Save time and money searching for a cheap Freightliner engine. Our Freightliner discount price is guaranteed for 30 days. For store details visit the Store Information
Freightliner Used Engines And Transmissions at the Best Price
Replacing the power plant or the gears in your Freightliner is not a welcome proposition for most over-the-road owner/operators. Not only do you have the hassle of finding a Freightliner engine or transmission with peak performance, a substantial remaining life and able to be shipped to your doorstep, but you don't want to spend all your profits for the next year paying for the replacement engine.
Saving Money is the Only Way to Go
When you want to replace your Freightliner engine or transmission with the best price and quality go to Automotix. If you want to spend more time moving cargo down the road than working on that fabulous Freightliner then get your parts from Automotix. You get a 90-day price guarantee that the price is the best in its class. This makes the decision to buy through Automotix a sound financial one.
We also offer shipping costs that are rock bottom. With our network of shipping contacts and over 200 supplier facilities we make getting that used engine or transmission fast and affordable.
Our Freightliner Engines and Transmissions
Save time and energy when searching for a used Freightliner engine or transmission--just go directly to Automotix. We have hundreds of locations and a large network of suppliers so that we can provide you with the utmost in service. If a great used Freightliner engine is what you need we have it. Our inventory of used Freightliner transmissions and engines is easily accessible, but if you are unable to locate the correct used Freightliner engine or transmission, let our professional and courteous staff members search for you.
Automotix tracks the incoming parts daily to insure that our information is up-to-date and accurate. Your Freightliner transmission is easy to acquire through our network of dismantlers (wrecking yards) and salvage yards. You can pick the closest facility so shipping time is reduced. Our 1-year warranty on all used engines and transmissions means that the we provide you with a quality part and with peace of mind knowing it will provide you with lots of service.
Get a 1 year Warranty on Used Auto Parts
When you want to know that your parts will go the distance you will find them at Automotix. Throwing away money on questionable parts just isn't a wise action on your part. With Automotix in the picture, you can know that your engine or transmission will fit and work correctly. Automotix is the only place that offers a 1-year warranty on used car engines or transmissions. If you want an engine you can depend on, get it her. We proudly warranty our entire used auto engines and used transmissions inventory.
You save money, time, and effort when you buy direct from the supplier. With Automotix you never have to pay a middleman. We are the premier supplier of warehouses and we offer the same price, shipping and warranty to you. Take advantage of our one-stop shopping for all your used Freightliner engine or transmission needs.