Select Model
---
Other Applications
---
Used GMC Engines & Motors Sales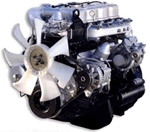 Our used GMC engines/motors come with 1-year warranty and 30-day price match guarantee. Buy your GMC engine from us with confidence knowing we stand behind the quality of our used car and truck engines.Save time and money searching for a cheap GMC engine. Our GMC discount price is guaranteed for 30 days. For store details visit the Store Information
GMC Engines and Trannys for all Makes and Models
For everyone in the market for quality used GMC parts, Automotix has great news for you. We're the premier company in the country when it comes to offering you quality used parts for your GMC vehicles. You can shop directly from our website and grab the part you need from over 200 of our top salvage yards. For years, we've been supplying engines and transmissions to insurance companies, fleet companies, mechanics, car repair shops, and more. Most companies charge you a bundle to purchase your part. But with us, you can pick up your part at wholesale cost. If you're shopping around, you may as well buy from the best. We've done our best to completely eliminate the markup from the middlemen.
Whether you're in the market for a used transmission or a used engine, we have what you're looking for. All of our GMC parts come with a 1-year-warranty. And unlike many other suppliers who force you to purchase their parts as-is, we guarantee that all of our parts come with the same incredible warranty. If anything at all goes wrong with your used engine or transmission, simply let us know and we'll replace your part instantly. But we're totally confident that you'll be completely satisfied with our premier used parts for years to come.
We're not only confident that you'll be pleased with the performance of your part. We're also confident that Automotix offers your GMC parts for cheaper than anywhere else you can find. And to prove this, we're offing a 90-day price match guarantee on all of our parts. If you can find the same engine or transmission with the same mileage and same warranty, we will gladly match the competitors' prices. This means that even after you purchase from us, you still have 3 months to shop around for a cheaper part. No other supplier can offer you so much.
Used GMC Engines and Transmissions Top Quality
No matter if you're looking for used truck engines, used car transmissions, etc; we offer the same great, retail price on everything. This includes all of the shipping and handling fees as well. With other companies, they must purchase their part from someone else, who then ships it somewhere else, all before they ship it to you. With Automotix, you're buying directly from a supplier, so there's no middleman at all. We can ship anywhere in the U.S. for the cheapest prices around. This works out to be a huge advantage in savings for the customer. And that's just yet another reason that Automotix is your one-stop-shop for GMC parts.
Offering cheap and reliable shipping isn't all we do. We can also locate any engine and give you our best warranty plan. Our inventory is constantly changing and we're shipping and receiving new parts everyday. For this reason, you may find that your desired GMC part isn't online. If so, just contact us and tell us what you're looking for. We'll work to find it right away and offer you the best price and our best warranty. That's the Automotix guarantee.