Select Model
---
Other Applications
---
Used Hummer Engines & Motors Sales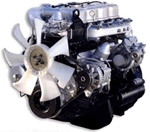 Our used Hummer engines/motors come with 1-year warranty and 30-day price match guarantee. Buy your Hummer engine from us with confidence knowing we stand behind the quality of our used car and truck engines.Save time and money searching for a cheap Hummer engine. Our Hummer discount price is guaranteed for 30 days. For store details visit the Store Information
AM General - Used Engines/Motors and Transmissions
For years, AM General engines have been used in vehicles such as the military style Hummer and other innovative and fun vehicles. AM General used engines are a popular item for salvage yards, wholesalers, insurance companies and even fleet maintenance managers. Now, the general public is able to obtain used AM General engines with the same ease as that found by the larger users.
If you are a do-it-yourselfer, backyard mechanic or just want the fun of a top-notch power plant for your mature vehicle. Automotix is the web site of choice by thousands of satisfied customers. We not only can help you find the best price on a used AM General engine, but we can guarantee it will be shipped to you at a price that will meet or beat all our competitors. Our exclusive 90-day price warranty is one-of-a-kind in the used automotive business.
Furthermore, if you order an AM General used truck engine through us, you get an mind-boggling one year warranty on the part. No longer do you need to be concerned about the quality of the parts you install. They always will be the part you ordered and the part you needed. Getting these two major guarantees when you shop through Automotix equates to peace of mind. You know the price is right and the part works. Replacing an engine and/or transmission is a major undertaking and not one that you want to repeat in a few days or weeks due to part malfunction.
The convenience of using our site to find your needed AM General used engine is reflected in such things as the "what you see is what it costs" price. The catalog or quoted price always includes the cost of getting the item shipped to you. Because our extensive network of over 200 quality suppliers is scattered across the country, you can save money in the distance you must consider for freight charges.
Inventory changes daily in a business such as dismantling and used engine or transmission parts. Our extensive online catalog allows you to search the inventory for yourself, but there is more--We know of items that will be placed in inventory within days or even hours, so we will search for the part for you if you like.
If you like to do your own searching, you will find our extensive database interesting and helpful. If, however, you don't find the engine or transmission that you want, let us know and if it exists--we'll find it for you. We'll tack on our one year quality guarantee and our ninety-day price guarantee and you'll be amazed at the results. Not only do you gain cost savings on your used part, but you can be certain of peace of mind.
If you need to replace the AM General engine in your vehicle, or any other automotive part, be sure to save yourself time and effort by visiting Automotix first. You'll be glad you did.