Select Model
---
Other Applications
---
Used Isuzu Engines & Motors Sales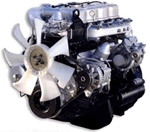 Our used Isuzu engines/motors come with 1-year warranty and 30-day price match guarantee. Buy your Isuzu engine from us with confidence knowing we stand behind the quality of our used car and truck engines.Save time and money searching for a cheap Isuzu engine. Our Isuzu discount price is guaranteed for 30 days. For store details visit the Store Information
Isuzu Parts on the Cheap
Automobiles have come a very long way. From the days of the wind-up engine, to cars that now skim on top of the water, American's have always had a thirst for all things motorized. For owners of an SUV, the passion is really no different at all. It may be the size, the safety, the capacity, or numerous other things that drive people to these modern marvels. But whatever the reason for owning one, one thing's for certain: they're manmade and subject to breakdowns like anything else. A popular brand of SUV is the Isuzu model. Since the commercials in the early 1990s with Joe trying to sell the world on the idea, Isuzu has come a long way. The bodies of the vehicles are more attractive, and so are the prices. A new engine can cost a small fortune. This is where Automotix can help you get your Isuzu up and running again.
If you're looking to purchase a used engine or a used transmission, you should only purchase the best. Other suppliers refuse to offer warranties on used parts, but Automotix has a standard 1-year warranty on everything we sell. The decision to pick up a used part shouldn't have to be a tough one. With Automotix, we do whatever we can to make it simple and painless. Offering our standard warranty is just one of the ways we help to ease the process. We also offer a 90-day price match guarantee on any used engine or transmission purchased. If you see the same part with the same mileage and warranty for cheaper somewhere else, we'll match it with no questions asked. You can buy from confidence with us!
All of our prices are the lowest in the industry. We can offer the price match in complete confidence because we know that most shoppers will rarely have to use it. Since our products are wholesale, it's extremely difficult to find something cheaper than what we sell, especially for a brand like Isuzu. With Automotix, what you see is what you pay for. We won't run up costs for shipping at all. In fact, we have over 200 different salvage yards throughout the country and ship anywhere in the U.S. without paying a third party to handle the task. This means that you get the product for a bare minimum cost, and delivered to your door in a matter of days. Offering customers the option to buy directly from the source is something we believe is just good business practice. There aren't dozens of different people trying to profit from your one purchase.
If you can't find your used Isuzu engine in stock, then we'll gladly locate it for you. You'll still receive our premium warranty for any product we don't currently have in stock. Our inventory changes often because we're constantly shipping out parts and taking new ones in. Our catalogs are thorough, however, and we're sure that we do carry the part you seek. We have used car engines for multiple brands and receive hundreds more each month.