Select Model
---
Other Applications
---
Used Land Rover Engines & Motors Sales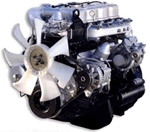 Our used Land Rover engines/motors come with 1-year warranty and 30-day price match guarantee. Buy your Land Rover engine from us with confidence knowing we stand behind the quality of our used car and truck engines.Save time and money searching for a cheap Land Rover engine. Our Land Rover discount price is guaranteed for 30 days. For store details visit the Store Information
No terrain is rough enough
Since the advent of the automobile more than a century ago, many different styles have come and gone. But through it all, the basic principle of the vehicle has remained the same. In the hundred-plus years of the vehicles journey, the SUV has probably been the most-loved advancement, outside of the sports car of course. But midlife crisis's aside, the SUV is undoubtedly the preferred choice by much of the workforce, soccer moms, celebrities, the backwoods, mountain, and country population, and much more. And few SUVs have ever been as popular as the Land Rover. This stylish and rugged all-terrain automobile first hit the roads in the mid 1940s. Since then, it's been a top-seller in America and England.
Automotix carries a wide selection of Land Rover engines and transmissions. Automatic or manual, we have transmissions for virtually every make and model of the Land Rover. We carry the 4-speed gearbox for the V8, supercharged V8, or the diesel version. We also carry 5-speed trannys, and any other type available from Land Rover. Our quality used engines and transmissions are guaranteed to last. Land Rover makes powerful and reliable parts, but when it's time to replace them, only Automotix can cover all of your needs.
Due to an overwhelming demand for Land Rover parts, and the used transmissions and engines of other brands, Automotix is now selling our wholesale parts to the general public. We made a name for ourselves by selling the highest-quality used engines to insurance companies, fleet companies, repair shops, and mechanics for years. With rock-bottom prices, we have been the preferred choice for long time now. With over 200 salvage yards all over the country, we're able to eliminate the middleman by shipping our stock parts directly to your door. The price is the incentive, the quality is the difference.
With any part you order from Automotix, you'll receive a 1-year warranty. Other companies would never try and offer you such a great incentive on one of their used parts. In fact, offering any sort of warranty on a used part is something that's considered taboo throughout the industry. Used parts are usually just too risky to guarantee any form of replacement. But you should never be fooled by that word. Used engines and transmissions are entirely underrated in terms of performance. And with us, you'll only receive parts with very limited use that still perform like they're brand new.
You'll also receive our 90-day price match guarantee. If you can find a used transmission or engine with the same warranty and mileage, then we'll match that price instantly. This is yet another shining example of Automotix's commitment to customer satisfaction. Land Rover parts are extremely common, and you may be wondering why you wouldn't just order somewhere else. Well, you can search around for a cheaper price all you want. But once you realize that they can't offer what we do, you'll choose us. We're the only company that can offer you the price match, the warranty, and ensure that you part's of the highest-quality.
On our website, you'll find a vast selection of used auto transmissions and engines. We especially carry a large selection of Land Rover parts. But if you we happen to be currently out of stock of your particular make and model, just contact us and let us know. We'll locate the part for you and guarantee that you'll receive the same 1-year warranty and low cost. There are no middlemen to contend with. At Automotix, we deal directly with you.