Select Model
---
Other Applications
---
Used Mini Engines & Motors Sales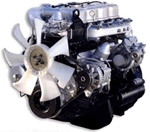 Our used Mini engines/motors come with 1-year warranty and 30-day price match guarantee. Buy your Mini engine from us with confidence knowing we stand behind the quality of our used car and truck engines.Save time and money searching for a cheap Mini engine. Our Mini discount price is guaranteed for 30 days. For store details visit the Store Information
The Mini's performance isn't small at all
The British are probably the most unique people you'll find in terms of manufacturing cars. Some of their cars are absolutely gorgeous like the Aston Martin and Jaguar. But some, well, let's just say they're an acquired taste. The Mini has been around since 1949, and no matter where you live, you've probably seen someone driving around in this glorified go-kart. In Britain, the Mini is the most popular car ever made. But in America, it only has a certain niche. This may be due to their limited numbers in terms of availability.
At Automotix, we carry a selection of used Mini engines and transmissions in stock. No matter what year or make your Mini is, we can get the exact part you need. Mini's engines are the A-Series, 850-1275 cc, and they're hard to find. But at Automotix, we have over 200 yards with a mass quantity of parts available. Parts like the 4-speed manual transmission, 4-speed automatic, and the 5-speed manual (rare).
If you want to get your car back on the road, then you need to visit Automotix and let us help you. At Automotix, we specialize in putting drivers back into their cars as soon as possible. In years past, we only catered to insurance companies, fleet companies, mechanics, and repair ships. Our wholesale prices were a favorite among these companies because it meant that they profited more.
We've decided to step up to the plate and offer our low prices to everyone. This just isn't a phase or a holiday special. We're offering these low prices full-time now. And we do expect that the public will be more than satisfied when they hear about our deals. Not only can we offer you low prices, but we also offer you a 1-year warranty on any part purchased from us. Other suppliers would never offer you a warranty on a used part. But at Automotix, we know that our quality counts. So if your part should happen to falter, simply let us know and we'll replace it.
Not only do we offer a full, 1-year warranty, but we also offer a 90-day price match guarantee. This means that when you buy our part, you have 90 days to find a better deal. As long as the part has the same warranty and the same mileage, then we'll match that price with no questions asked! We're committed to customer satisfaction at Automotix, and we want you to be completely satisfied with any part you purchase from us. If you need a used Mini engine or transmission, all you have to do is pick it out, we'll do the rest. On our site, what you see is what you get. Our prices never inflate, and you'll never have to worry about hidden fees and multiple charges.
How can we offer you superior quality at such a low price? It's simple: since we have over 200 salvage yards throughout the country, we're able to locate the part within our own network, so we never have to reach out to a third party to ship the part to us. Other suppliers do this and it ends up costing you hundreds of dollars extra. We make sure that we eliminate that completely. And if you can't locate your part on our site, then we'll locate it for you. Just tell us what part you need, and we'll have it in to you in no time at all. And any part we locate for you comes with the same standard, 1-year warranty.