Select Model
---
Other Applications
---
Used Mitsubishi Engines & Motors Sales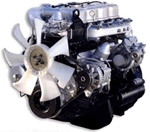 Our used Mitsubishi engines/motors come with 1-year warranty and 30-day price match guarantee. Buy your Mitsubishi engine from us with confidence knowing we stand behind the quality of our used car and truck engines.Save time and money searching for a cheap Mitsubishi engine. Our Mitsubishi discount price is guaranteed for 30 days. For store details visit the Store Information
Never pay too much for quality
It may cost you a small fortune to purchase a new car. And most people who shop for new cars don't even realize that they could just fix their old one. By replacing your busted parts with a quality engine or transmission, your car's as good as new again. For years now, Automotix has been supplying used engines, used transmissions and other parts to customers seeking parts for their vehicles. Our many customers vary from insurance companies, fleet companies, repair shops, mechanics and the do-it-yourself owners across the country. You should never take the risk of buying garbage from a small supplier. When you shop Automotix, you'll find only the best.
Automotix brings you one of the widest selections of Mitsubishi parts available. And we sell all of parts wholesale. Currently in stock, we have a Mitsubishi transmission assembly. But if you want us to locate the part, we can locate any Mitsubishi transmission, manual or automatic, on the market. We can also get you used engines like the Orion, KE, Neptune, GEME, Cyclone, 2G1, 3Ap, Astron, and many, many more. There's no part out there that can hide from Automotix.
We have hundreds of different brands to choose from. One of our more popular brands of used car engines is Mitsubishi. For years now, Mitsubishi has been a name that people trust for quality. But unfortunately, engines and transmission will fail over time. This is when you must make the choice and decide whether you want to finance a new vehicle, or fix the one you already have. All of our parts come with a 1-year-warranty. Automotix is the only supplier that can offer you a warranty like this on used engines and transmissions. We guarantee your satisfaction, and we only sell the best on the market.
We're so dedicated to customer satisfaction that we're even offering a 90-day price match guarantee. If you can find the same Mitsubishi engine, transmission, or any other part we carry for a cheaper price, with the same warranty, then we'll gladly match that price, no questions asked. This isn't something we do for a gimmick or to gain publicity. We always offer the best deals on any Mitsubishi part you're looking for.
Our prices are the cheapest that you'll find anywhere. We sell to you at retail prices which include all fees, this includes shipping and handling. With Automotix, what you see is what you pay for. We have your parts in stock already and are able to ship directly to your door. Since we don't have to search for your Mitsubishi parts through other salvage yards, we can eliminate the middleman and ship to you without the extra cost. This is a great relief to our customers who are tired of paying insanely high prices for one auto part. Buying directly from the source at a low price is something that only we can offer you.
Though we do carry multiple used engines and other parts made from Mitsubishi, you won't always be able to find the part you need. Our online selection is thorough, and there's a very good chance that you can find exactly what you're looking for by simply browsing through it. But if you can't, we'll be more than happy to locate the part for you, and we still ensure that you'll receive our 1-year warranty plan. We offer the same low prices and warranty on any part you buy, that's the Automotix difference.