Select Model
---
Other Applications
---
Used Oldsmobile Engines & Motors Sales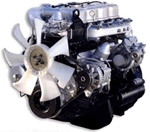 Our used Oldsmobile engines/motors come with 1-year warranty and 30-day price match guarantee. Buy your Oldsmobile engine from us with confidence knowing we stand behind the quality of our used car and truck engines.Save time and money searching for a cheap Oldsmobile engine. Our Oldsmobile discount price is guaranteed for 30 days. For store details visit the Store Information
Experience the American standard
In this day and age, more and more people are proclaiming, "Buy American!" During the industrial revolution, our country was a hotpot for numerous jobs - the biggest being the automotive industry. But since then, all of our American cars have had foreign owner's manuals. But this is far from a sad commentary for our country. No matter what the world has thrown in front of us, American's have always persevered. And a brand like Oldsmobile is living proof of our ability to maintain. Started in 1897, Oldsmobile was a brand of automobile produced for a long time by General Motors. Oldsmobile lasted for over 100 years until it was phased out in 2004. From extremely rare classics like the 1934 Oldsmobile 8 Convertible Coupe, to the 1957 Super 88, this home-schooled brand was definitely built for the road. And when it comes time to get your Oldsmobile parts, only the best supplier will do.
Automotix carries a large selection of used Oldsmobile transmissions and engines. From the lightweight, compact V8, to the Rocket and the Diesel, we can get you the engine you need. All of our Oldsmobile engines are built to last. You won't have to worry about replacing the parts you get from Automotix. If you need a used transmission, we can set you up with any one of a variety of Oldsmobile models of automatic transmissions. Whether you're shopping for a late 50s classic or a modern marvel, we can find whatever you need.
For the finest-quality used engines and transmissions, Automotix is the only place to shop. We offer a 1-year warranty on everything purchased from our 200 salvage yards. No other supplier can come close to offering a warranty on used parts. If you experience any problem at all with a part you purchase from us, we'll gladly replace it. And with our 90-day price match guarantee, you can rest easy knowing that you're always paying the absolute lowest price with us. If you can find the same used engine or transmission with the same warranty, we'll match the competitor price. When you buy from us, we want you to buy in complete confidence.
It's not only our superb warranties and our one-of-a-kind 90-day price match that sets us apart from other suppliers. Our prices are the absolute lowest in the industry. You'll receive only the finest quality from us, and all of our prices include shipping and handling. When you use our site, our listing price is our final price. You won't find any hidden charges from third party middlemen. We deal directly with our customers. You get your products from the yard they're located at, so the freight cost always comes in at a bare minimum. This is a huge advantage to the customer. No middlemen means that you're guaranteed to get the lowest price running.
We carry a large assortment of Oldsmobile engines and transmissions at Automotix, with new parts being shipped in daily. If you have any trouble at all locating a used part on our website, you can easily browse our catalog and find exactly what you're looking for. But if our site happens to be missing your desired part, then don't hesitate to contact us and we'll be happy to locate the part for you. Any part we locate still comes with our standard 1-year warranty, 90-day price match, and is guaranteed to be of the highest quality. We won't waste any time. Once you find the part, it gets shipped directly to you. Automotix wants your car to run like new.