Select Model
---
Other Applications
---
Used Peterbilt Engines & Motors Sales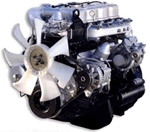 Our used Peterbilt engines/motors come with 1-year warranty and 30-day price match guarantee. Buy your Peterbilt engine from us with confidence knowing we stand behind the quality of our used car and truck engines.Save time and money searching for a cheap Peterbilt engine. Our Peterbilt discount price is guaranteed for 30 days. For store details visit the Store Information
Make room for Peter
Making their way onto the scene in 1948, Peterbilt Trucks have been one of the best all-around brands on our nation's highways since. This American-built powerhouse can be seen honking their horns for adoring fans on any number of roadways. Peterbilt makes some of the most reliable trucks out there. But if they do happen to break down, they're an absolute pain to shop for. It's a major expense to shop a new engine or transmission for your truck. So, to save on the outrageous cost, a lot of people pick up used Peterbilt parts. Buying a used part from any supplier just won't do. And since some companies are only after your hard-earned money, you really don't know who to trust. At Automotix, our quality, used auto engines and transmissions are the best that money can buy.
Peterbilt engines and transmissions are huge, and they're also hard to find. This is why Automotix makes sure to keep them in stock. We can locate the used Peterbilt engine or transmission you need and get it out to you in a hurry. We have engines like the 12.9 Liter PACCAR and the 388 readily available. For those big, 10-speed, 13-speed and 18-speed used transmissions; Automotix is the cheapest place to shop. We guarantee that we can match you with the used Peterbilt engine or transmission you need.
We carry a wide selection of parts just for Peterbilt. No matter what size you're looking for, Class 5 through 8, we carry the parts you need. Just like anything you buy from us, your part automatically comes with a standard 1-year warranty. We're the only supplier around who can offer that to you. We guarantee that you Peterbilt owners will be satisfied with the part. And to emphasize even more just how much customer satisfaction means to us, we also offer a 90-day price match guarantee. If you're able to find the same used engine or transmission with the same warranty and mileage, we'll automatically match the competing price.
At Automotix, we deal directly with you, and that's what makes us stand out from all the rest. With over 200 salvage yards throughout the country, we can completely eliminate any third party and ship directly to your doorstep. We've always offered our services to insurance companies, fleet companies, large mechanic operations, and repair shops. But now, Automotix is offering our services to the entire population! We can process any order quickly, no matter what size, and your product will be shipped out to you immediately. By purchasing directly from the source which carries your part, you get a cost-effective, risk-free business transaction every time.
Few trucks are as popular as Peterbilt. And it's because of their popularity that your odds of finding the used engine or transmission you're looking for are greatly increased. But if you can't find your particular make or model, don't worry. All you have to do is contact us and tell us the exact make and model that you need. After that, we'll quickly find the part for you, no problem. With the increasingly high demand for these parts, we can't always keep our site totally up-to-the-minute. But if you need a particular part, we will locate it for you and offer you our same 1-year warranty! No other supplier in the entire industry can offer you anything close to what we do. If your Peterbilt needs some quality care, then Automotix is the only stop you'll need to make on the road to recovery.
About our Peterbilt Engine locating service:
We can help you find the Peterbilt engine you need fast and cost effectively. Even if you don't see your engine listed in our catalog, we probably have it in our inventory ready to ship or we can find it in an auto auction. Our large network of auto recyclers, salvage yards and wrecking yards across the country dismantle daily hundreds of damaged cars and trucks. So our inventory is refreshed daily. We will locate any engine, transmission or used part that you need and offer you the best warranty in the used parts industry. Once you supply the VIN (vehicle Identification Number) of your car or truck, we will match the exact engine for your Peterbilt automobile and get back with you with a price quote. When buying a used Peterbilt engine you may get the engine accessories, manifold and sometimes with the gear - it will vary with one dismantling to another.
Remember, when you buy a used Peterbilt engine from us, you are getting the most cost effective engine around, 30-day price match guarantee and an exceptional 1-year warranty. Let us help you find your next engine for your Peterbilt . To get started, just click on the "Engine Locator" button.