Select Model
---
Other Applications
---
Used Plymouth Engines & Motors Sales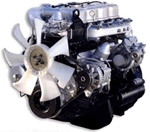 Our used Plymouth engines/motors come with 1-year warranty and 30-day price match guarantee. Buy your Plymouth engine from us with confidence knowing we stand behind the quality of our used car and truck engines.Save time and money searching for a cheap Plymouth engine. Our Plymouth discount price is guaranteed for 30 days. For store details visit the Store Information
Let Plymouth rock you
In 1928, the Plymouth automobile was introduced. It was the Chrysler Corporation's first entry in the low-priced field. At the time, this field was dominated by Chevrolet and Ford. Though Plymouths were priced a bit higher than the competition, they did offer some features that were unheard of at the time. The company offered hydraulic brakes that their competition didn't provide. Originally, Plymouths were sold exclusively through Chrysler dealerships. The Plymouth logo was a rear view of the Mayflower, the ship that famously landed at Plymouth Rock. Needless to say, this car was an instant American classic. Since then, millions of these cars have been bought, and you can find one at any given time, on any given road.
Automotix is the only supplier around who can give you wholesale prices on a variety of used Plymouth engines and transmissions. We can get you set up with a Plymouth engine model like the 361, 383, 400, 413, 426, and more. And if you're looking for the RB series, we can get those as well. Our huge inventory isn't only limited to Plymouth engines, we also have a variety of transmissions to match anything you need. We have 3 and 4 speed automatic transmissions for a variety of Plymouth models.
Automotix is the supplier to trust when you need Plymouth engines or transmissions. With over 200 salvage yards countrywide we carry thousands upon thousands of parts in stock for all your used auto part needs. There are a few things that sets us apart from all the rest, but the biggest being our ability to ship directly to anywhere in the country. On our website, you'll find extensive catalogs that are packed full of used auto engines and transmissions from various brands including Plymouth. We carry parts for any model or size. However, with high demand for our quality parts, and are many locations, sometimes a part won't be displayed online. If you can't find your desired part, just tell us and we'll locate it for you. All of our parts come equipped with the same high standard.
With any used engine or transmission you order from Automotix, you'll automatically receive a 1-year warranty. Unlike other companies who refuse to offer such an enticement on a used part, we believe this to be our standard, and do all we can to guarantee that your vehicle runs effortlessly for years to come. On crest of this magnificent warranty, we also offer a 90-day price match guarantee. If you can find it cheaper anyplace else with the same warranty, we'll gladly match that price for you. We believe in customer satisfaction at Automotix.
Our 90-day price match is great, and it's put in place to give you the best deal available. Since we don't bond third parties for our parts, we're able to offer you an honest, low price. Since we're shipping to you directly from our yards, we don't have to charge extra for all the middleman stuff. With Automotix, what you see is what you get. There are no secret or hidden charges. You won't be charged one price for your Plymouth engine, and then have to pay twice over once it's shipped. We take this business very seriously and refuse to work like that. Offering you the lowest possible price on the best parts available is what we do best.