Select Model
---
Other Applications
---
Used Saab Engines & Motors Sales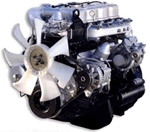 Our used Saab engines/motors come with 1-year warranty and 30-day price match guarantee. Buy your Saab engine from us with confidence knowing we stand behind the quality of our used car and truck engines.Save time and money searching for a cheap Saab engine. Our Saab discount price is guaranteed for 30 days. For store details visit the Store Information
Buy Remanufactured Saab Engine!
Saab - Safety in Swedish Engineering
As the years of World War II came to an end, the Swedish Aeroplane Company began looking around for production possibilities to replace its reliance upon the no longer required planes for the Swedish Air Force. The result was the SAAB 92, released in 1949 as the first Swedish passenger car. Current models in production include the Saab 9-3, Saab Turbo X, Saab 98-4x; Saab 9-5 and Saab 9-7x. If you own any of these models or any of the numerous previous models you may be wondering how you will be able to replace the engine or transmission when it comes time to put the old power plant out to pasture.
Finding the right Saab
You need not worry about the availability of a used engine or transmission for this car with a reputation for quirkiness, as well as safety, turbo charging and green technology. At Automotix, we work with a couple hundred suppliers of parts such as used Saab engines to provide the best quality parts for customers at the lowest possible price. The minute we know your needs, either through your search of our user friendly drop-down menu, your access to the extensive online catalog or because you've picked up the phone or sent an email and contacted us directly, we'll help you locate and purchase the used Saab engine or transmission that is the perfect match for your automobile. We're so sure of our knowledge and expertise in locating parts, that we guarantee the part that you buy for a full year after purchase.
Getting the best price
At Automotix, we take steps to assure you that the price you get is the best one available. In fact, if you find a lower price from one of our competitors on equivalent parts, we'll match it. We make certain you don't pay extra for your used Saab engine or transmission because we cut out the costs associated with a middleman. We help you find the right part at the best price and you purchase directly from the supplier. Because of our widespread network of wrecking yards, dismantlers, and auto salvage yards is found in numerous locations all over the country, when you find the right part at the best price, you don't have to pay extra to a middleman get the part. The distance items are shipped is reduced to the barest minimum when you purchase direct.
Getting great service
Our staff is trained and experienced in making your Automotix purchasing transaction positive from beginning to end. Although we know you don't want to repeat the experience of purchasing a used Saab part for your family car, we do want you to be happy to tell your friends about the great service we have provided. We have worked with insurance companies, fleet operations, auto repair shops and wholesalers for years to provide the best quality parts at the lowest price. We now extend these qualities to the general public.