Select Model
---
Other Applications
---
Used Suzuki Engines & Motors Sales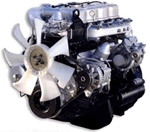 Our used Suzuki engines/motors come with 1-year warranty and 30-day price match guarantee. Buy your Suzuki engine from us with confidence knowing we stand behind the quality of our used car and truck engines.Save time and money searching for a cheap Suzuki engine. Our Suzuki discount price is guaranteed for 30 days. For store details visit the Store Information
Buy Remanufactured Suzuki Engine!
Suzuki - Motorcycles and more
Suzuki's History in the U.S.
Suzuki is the 12th largest automobile production company in the world and has a presence in 192 different countries. The production of automobiles began in 1937 with a prototype liquid-cooled four-cylinder, four-stroke engine. The innovative power plant had a cast aluminum crankcase and emitted 13 horsepower. The war years put an end to thoughts of such non-essential equipment and it was not until the 1950's that the company, famous for its looms, returned to thoughts of motorized transport. The first post war invention was the 1952 Power Free, a lightweight engine attached to a bicycle. The motorcycle could be pedaled, run on engine power alone, or used in combination. Suzuki Motor Corporation sprang from these beginnings.
In 1955, the company launched the innovative Suzulight with front wheel drive, rack-and-pinion steering, and four wheel independent suspension--features that would not become standard on other cars until 50 years later. In 1963, Suzuki made its appearance in the United States and has been a strong contender for sales in the U.S. since. In fact, in 2003, Suzuki racked up the 30th straight #1 Keicar annual sales position.
Suzuki has the honor of selling more cars in the U.S. during its first year than any other Japanese company. It claimed this honor with the Suzuki Samurai. Other well known models are the Sidekick, Twin and Grand Vitara.
How Automotix can help you find your part
Thousands of Suzuki models are running in the United States, with 100,000 vehicles being sold in 2006 alone. If you are a Suzuki owner and you find yourself in the position of needing a used Suzuki engine or transmission, The one place to visit on the internet is Automotix. With one of the largest inventory of used parts including used Suzuki engines and transmissions in the country, Automotix also has plenty to offer in terms of quality. In fact, we guarantee the quality of your used engine or transmission for one year--more than any of our competitors.
Another guarantee that Automotix provides is that of price. For up to 90 days following your purchase, we will pay you the difference for any like part that costs less money. This type of warranty means you never need be concerned about getting ripped off financially when you buy through the Automotix web site. We promise you the best prices around and we deliver on our promises.
Direct purchasing and shipping
One of the ways we're able to keep the prices down for our customers is that we help you find the part you need but the ordering is done directly with the supplier. You don't pay a middleman and you don't pay for multiple shipping fees to get the part from the supplier to you. The shipping agreements that we hold with freight companies ensure that your part will reach you in the shortest possible time.
In the past, our customers have been suppliers, insurance companies, fleet operators and repair shops, but now Automotix is proud to be able to offer the same great quality, prices, warranties and service to the general public.