Select Model
---
Other Applications
---
Used Lotus Engines & Motors Sales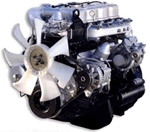 Our used Lotus engines/motors come with 1-year warranty and 30-day price match guarantee. Buy your Lotus engine from us with confidence knowing we stand behind the quality of our used car and truck engines.Save time and money searching for a cheap Lotus engine. Our Lotus discount price is guaranteed for 30 days. For store details visit the Store Information
Don't let your Lotus bug you
Cars and trucks have come a really long way since the days of the slow-moving, constantly breaking down early models. Every type of car out there has its own particular niche, and for owners of a Lotus, this is no different. The passion and care that goes into an automobile isn't extended solely to the more popularized brands. Owners of the Lotus brand are happy with their product. This sports car maker is known for producing super-fast and stylish machines. But when they break down, your options are limited. If you order your new parts from the manufacturer, you'll be looking at weeks, possibly even months of waiting. And that's not even including the insanely high price you'll have to pay. For this reason, many Lotus owners look to Automotix for help.
For the Lotus 900 series engines, this is the place to shop. We carry a big selection used Lotus engines. Every part we sell is quality, and made to last. Even for you classic lovers out there, we can get you fixed up for the 1558 cc Lotus-Ford Twin Cam. We also carry the 3-speed automatic transmission, RWD for the 1974-1989 series Lotus. We have a vast selection in stock. If your Lotus needs an engines or transmission, Automotix has it.
If you're looking for a used Lotus engine or transmission, then you should only purchase the best. Other suppliers in the industry will refuse to offer you a warranty on their used parts, but as Automotix, we believe that every product we sell should come standard with a 1-year warranty. Making the choice to pick up a used part may just be the wisest you've made to this point. Don't quit on a good thing now. Stick with us and we'll guarantee that you'll receive a quality part for a more than fair price. This is just one of the things that set us apart from the competition. We also offer our signature 90-day price match guarantee. If you can find the same part with the same warranty and mileage, we'll match that price. We have full confidence in the quality of our parts, and we want you to have confidence in us.
We offer the lowest prices in the industry by far. Our price match guarantee is a no-brainer. We know that most will never get the chance to use it because our products are already the cheapest out there since we're giving you wholesale prices. And for you Lotus owners, that's great news. Buying from us can save you thousands of dollars on your used Lotus engines and transmissions. With Automotix, the price you see is the price you pay. We refuse to run up your costs for shipping. With over 200 salvage yards throughout the country, we have plenty of items in stock and will ship to you directly anywhere in the country. That means that you're getting the product for a bare minimum cost. Giving you the opportunity to buy directly from the source is something we know you'll appreciate.
If you're having trouble finding your Lotus parts in stock, then we'll quickly locate the product for you. And with any product we find for you, you'll still receive the full Automotix package: 1-year warranty, price match guarantee, and the highest quality. We have used auto engines and transmissions in stock from hundreds of brands as we speak. Our stock is ever-changing, shipping and receiving new parts each day. If you need a part, Automotix has it.
About our Lotus Engine locating service:
We can help you find the Lotus engine you need fast and cost effectively. Even if you don't see your engine listed in our catalog, we probably have it in our inventory ready to ship or we can find it in an auto auction. Our large network of auto recyclers, salvage yards and wrecking yards across the country dismantle daily hundreds of damaged cars and trucks. So our inventory is refreshed daily. We will locate any engine, transmission or used part that you need and offer you the best warranty in the used parts industry. Once you supply the VIN (vehicle Identification Number) of your car or truck, we will match the exact engine for your Lotus automobile and get back with you with a price quote. When buying a used Lotus engine you may get the engine accessories, manifold and sometimes with the gear - it will vary with one dismantling to another.
Remember, when you buy a used Lotus engine from us, you are getting the most cost effective engine around, 30-day price match guarantee and an exceptional 1-year warranty. Let us help you find your next engine for your Lotus . To get started, just click on the "Engine Locator" button.