Select Model
---
Other Applications
---
Used Daihatsu Engines & Motors Sales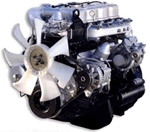 Our used Daihatsu engines/motors come with 1-year warranty and 30-day price match guarantee. Buy your Daihatsu engine from us with confidence knowing we stand behind the quality of our used car and truck engines.Save time and money searching for a cheap Daihatsu engine. Our Daihatsu discount price is guaranteed for 30 days. For store details visit the Store Information
Daihatsu Used Motors & Used Transmissions
Compared to the venerable production history of the Buick's, Chevrolet's and Cadillac's, Daihatsu cars are relative newcomers to the automotive world. Formed in 1951, in Japan, the smaller money-saving cars did not enjoy any appreciable success until well into the 1980s.
Saving Money is a Must
When you own a Daihatsu, and it is time to replace the engine or transmission in order to give your economical vehicle another decade or more of service, you want to save money on the used engine or transmission, just as you did when you purchased the original vehicle. After all, getting the right used engine or transmission part and installing it the first time is a great way to save money. At Automotix, we are so sure you will be satisfied with your purchase that we warranty and quality of the used engine or transmission. We also stand by our prices. If you find a cheaper price for the same part within ninety days of purchase, we will match the competitor's price.
Another way that we save you money is on shipping costs. Because our salvage facilities are located throughout the country, we can help you find the closest one with your desired used engine or transmission. We hold agreements with many of the major freight distribution companies to lower your cost on shipping rates too. When we save money, we pass the savings on to you.
Finding Great Used Daihatsu Engines and Transmissions is so Easy
Don't waste time running from wrecking yard to salvage yard to find a working used Daihatsu transmission. Use your computer to do your searching for you. Find that used Daihatsu engine or used transmission at Automotix.net. Don't let the imbued "small" of Japan override the skill of precision detail it is famous for. Use Automotix.net's inventory of used Daihatsu transmissions and engines keep your vehicle alive.
Our inventory changes by the hour. Let us know if you can't find your Daihatsu transmission or engine on our site or in the catalog and we will do the searching for you.
Just Try and Beat Our 1 year Warranty
Our unique 1-year warranty on all used engines and transmissions make us the best source for all your engine and transmission needs. Shop here first and you will never go anywhere else again. We are certain you will appreciate the peace of mind that is included along with our warranty and guarantees.
We Buy the Top Units
Save your time, energy and money by buying directly from the source. We have been the premier wholesaler supplier for repair shops, auto mechanics, insurance companies, fleet companies, and do-it-yourselfers for years. We continue to offer you the same price, quality and warranty as we do to our wholesalers. Don't go anywhere else for your used Daihatsu engine or transmission. You have the advantage of one-stop shopping, Automotix always gives you great prices on your choices plus you have the added bonus of our ninety day price guarantee and one year parts warranty.
About our Daihatsu Engine locating service:
We can help you find the Daihatsu engine you need fast and cost effectively. Even if you don't see your engine listed in our catalog, we probably have it in our inventory ready to ship or we can find it in an auto auction. Our large network of auto recyclers, salvage yards and wrecking yards across the country dismantle daily hundreds of damaged cars and trucks. So our inventory is refreshed daily. We will locate any engine, transmission or used part that you need and offer you the best warranty in the used parts industry. Once you supply the VIN (vehicle Identification Number) of your car or truck, we will match the exact engine for your Daihatsu automobile and get back with you with a price quote. When buying a used Daihatsu engine you may get the engine accessories, manifold and sometimes with the gear - it will vary with one dismantling to another.
Remember, when you buy a used Daihatsu engine from us, you are getting the most cost effective engine around, 30-day price match guarantee and an exceptional 1-year warranty. Let us help you find your next engine for your Daihatsu . To get started, just click on the "Engine Locator" button.